Research, Strategic & Ranking Unit
Our main roles are to intensify and diversify research related to the development, education and child care in Malaysia.
Highlights on Research Impact
The first national curriculum for ECCE (0-4 years old) was developed.
(Research on PERMATA Curriculum Modules, 2008)
Premier online gifted screening system for Malaysian children was developed and being used annually.
(Research on Gifted and Talented Children, 2016)
The first national quality framework for a comprehensive and integrated model of quality Malaysian ECCE is being developed.
(Research on Quality Malaysia ECCE, 2015-2019)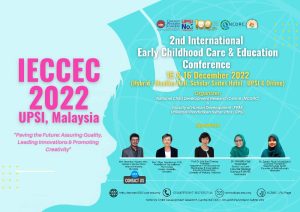 All
15 Disember 2022 – Sedang berlangsung 2nd International Early Childhood Care & Education Conference (IECCEC 2022) di Dewan Muallim , Hotel Scolar Suites, UPSI, Tanjung Malim, Perak, Malaysia. Live now, the 2nd Int ernational Early Childhood Care & Education Conference
Read More »